Hurray! Bike Week 2022 has now started and it runs from Sat 14 to Sun 22 May. 

Cyclist.ie's member groups are running some really fabulous events countrywide and in this article here we give you a flavour of just some of the events happening. 

Note that the header image above is from the beautiful poster produced for the Leitrim Cycling Festival which you can see in full below.
Navan Cycling Initiative, County Meath
They are running three events for Bike Week: a family-oriented Community Cycle, a nature-oriented evening cycle beside the Boyne river, and a chit-chat-snack-and-tea-oriented Social cycle to Bective Mills. Details and registration can be found at http://navancycling.ie.
Sligo Cycling Campaign (SCC)
SCC is organising three events for Bikeweek: Camchuairt Rothar ar Chlocha Teorainn Shligigh i gcuideachta an Staraí Dr. Fiona Ní Ghallachóir, a Pedal Parade for all ages and abilities, and the premiere of the short film "Love Song to a Bicycle" for which patrons will travel to the film by Cycle Bus.

More information at https://www.sligocyclingcampaign.ie/.
Drogheda Cycling Group / County Louth
The Drogheda Group will be hosting three events:
1. Bike Clinic in Courtyard Coffee on Sunday 15 May at 10 AM.
2. Community Cycle to Oldbridge House on the 15th (free tea/coffee and snack to all participants)
3. Community Cycle to Oldbridge House – on the 22nd (again free coffee and snack).
Wexford Bicycle User Group
WexBUG will be hosting two events.
On Saturday 14 May, we will run our 'Get back on your bike' session. This event is aimed at people who may not have cycled for a while and are looking for a place to start. As such this all encompassing event will involve bike maintenance, safe cycling lessons, a guided spin around Wexford town and FREE coffee. Details here.
Then on Thursday 19 May, WexBUG will pay a visit to Rosslare National School to do a Question & Answer session with the pupils. It also plans on delivering some essential bike skills and handing out a few freebies.
Leitrim Cycling Festival 20-22 May
This is a weekend of events taking place in the lovely town of Drumshanbo. It includes something for all ages – workshops, feasting, music, dancing, camping, puppetry, ice baths, ice cream and celebrating bikes.
Full details available at https://leitrimcyclingfestival.com/.
Galway Cycling Campaign (GCC)
GCC are organising a social spin near Loughwell between An Spideál and Maigh Cuilinn on Sunday 15 May. The plan is to bring a group of adults and families with older children (8-12) along quiet "rothar roads", through Coillte forest trails and some gravel paths through the Galway Wind Park. Details here.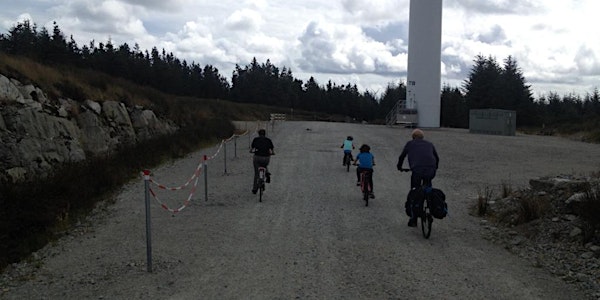 Galway Cycling Campaign is also hosting a 'Bike United Bike Valet' for Galway United supporters at Eamonn Deacy Park, Terryland, for their match against Athlone Town on Friday 20 May. There will be a dedicated, secure area where supporters may safely park their bikes, cargo bikes, and bike trailers, under the supervision of volunteers during the game, with a raffle and spot-prizes and discounted admission available for those arriving to the game by bike.
Dublin Cycling Campaign (DCC)
DCC is organising / co-organising three events for Bike Week.
The Bicycle Kicks! event on Saturday, 14 May 2022 combines a bicycle maintenance demo and workshop, a Critical Mass cycle through Dublin 7, and a 'break the record attempt for attendance at a Women's League of Ireland match' between Bohs v. Shelbourne (with free admission to the match if you arrive on bicycle).

Details at https://www.dublincycling.com/events/bicycle-kicks.


Then on Wed 18 May (1-2pm), DCC is delighted to present a webinar on the Cycle Friendly Employer scheme, a European Cyclists' Federation initiative which is an employer certification programme to establish a European standard for cycle friendly companies. Details here.


Then on Saturday, 21 May 2022 (starting at 10:30am), there is the Community Gardens Cycle. This is a wonderful cycling odyssey through a selection of Dublin's Community Gardens, where one can meet its members and join a talk on rewilding for biodiversity with native wildflowers.

Details at https://www.dublincycling.com/events/2022-community-gardens-cycle.